At first, the wind groaned in agony, and then in a rage flung about pieces of my neighbours' property onto my own. Somewhere between the storm's howls and the thunder's roars the sky wept bitter tears pouring floodwaters into every available space. For hours on end I tried to give the water space to flow, I tried to give the wind room to roam and I tried to give myself space to breathe. But sometimes it felt as though my breath caught in the passing gusts and many times the commotion outside was so unbearably overwhelming that I sat in silence while my life flashed before my eyes. When I walked out my front door the next morning, I was shocked to see what little was left of the place I called home. I said to myself, "Well, Dominica is finished," and fought back tears as I surveyed the devastation.
Little did I know, halfway across the island, Michael Lees was saying the same thing to himself as he climbed out of a makeshift hut, in the middle of the forest, that had miraculously held up through the 150mph winds that Hurricane Maria brought about in 2017.
Michael had survived a category five storm in the thick of the tropical forest and he bares it all in his debut film – Uncivilized.
Today, Uncivilized will make its first online appearance which is an opportunity for sharing an experience so intimately known by Caribbean nationals to the rest of the world. The screening will be followed by a Q&A with the filmmaker and USC School of Cinematic Arts Writer/Editor Desa Philadelphia. For sure, the discussion will touch on how the harrowing experience prepared him for the fallout of COVID-19 and how he has connected the dots of environmentalism and spirituality. To prepare for the official online launch Michael and I had a chat about how things have changed since the first premier of Uncivilized, the relevance of the film today, and the reason for the virtual launch. Here is what he had to say:
What has life been like since the release of Uncivilized?
Full! On the plus side I've had the opportunity to travel to Trinidad, Barbados and Miami with the film which has been amazing, and had the opportunity to meet filmmakers of all walks of life which has been amazing. I also still get people stopping me saying how much they enjoyed it or how much it moved them which is an awesome feeling. But it's also been a continuation of the same, still hustling to get paid work, while working on the film.
The film has been screened at several venues since its debut. Can you tell me which were the most memorable?
Each was so different and I loved all the ones that I've visited. Barbados was really international, lots of cool events and excursions based around the festival. I even got to meet the screenwriter of Robocop which motivated me to kickstart a screenplay idea I'd had for a while, and I also got to meet the minds behind Creative Control who produced a lot of Curren$y's music videos (one of my favourite hiphop artists). Trinidad was the premiere and it was at CARIFESTA which was amazing – being in the hub of Caribbean arts; and Third Horizon in Miami landed me a distribution deal, and also allowed me to meet some very cool Caribbean and Caribbean diaspora film makers, with some amazing films. Shout out to Esery Mondesir!
As a film maker, what is it like looking at your creation on the big screen?
Especially since I'm a character on screen, it was terrifying the first few times, especially the Dominica premiere. It feels like your entire being is about to be judged. But it's been great seeing audiences responding so positively.
Do you think you've gotten the support you needed throughout this journey?
Making a film as a first-time film maker is always a challenge – you have no reputation or serious past work to launch from. But thanks to support from my parents, those who backed the film through crowdfunding, my amazing team – Sheldon Casimir, Norris Francois Jr, Nikki Abban – and a host of other friends and supporters, we made it through. It can definitely be a lonely journey at times though… full of self-doubt. Even though there are others working on it, supporting, and giving some great feedback, it's your baby and at the end of the day you have to make the difficult calls…
What is the main reason for doing a virtual screening? What has the preparation stage been like?
With the current COVID situation, in-person screenings are impossible, but we wanted to get the film out now because there are so many cross-over lessons from Maria to COVID – resilience, community, adaptation – and we thought we could add something significant to the conversation.With the way the situation evolved so quickly, it's been hectic to say the least, [with preparation]but all is rolling along well.
Do you think the film is still relevant?
1000% One, global warming and climate change haven't gone away. We've seen a brief drop in carbon emissions but If anything they have shown how challenging – dare I say impossible – our current target carbon emissions are to achieve under regular circumstances. If we continue business as usual, life is going to become hell on Earth. In addition, as I said, there are crossover lessons between Maria and Covid. Think about how severely impacted a major Metropol is vs a rural area just due to population density. Not to mention, if the global food supply chain collapsed, some of these cities would be in major trouble. The Dominica government's initiative to encourage backyard farming to bolster food security is a commendable effort.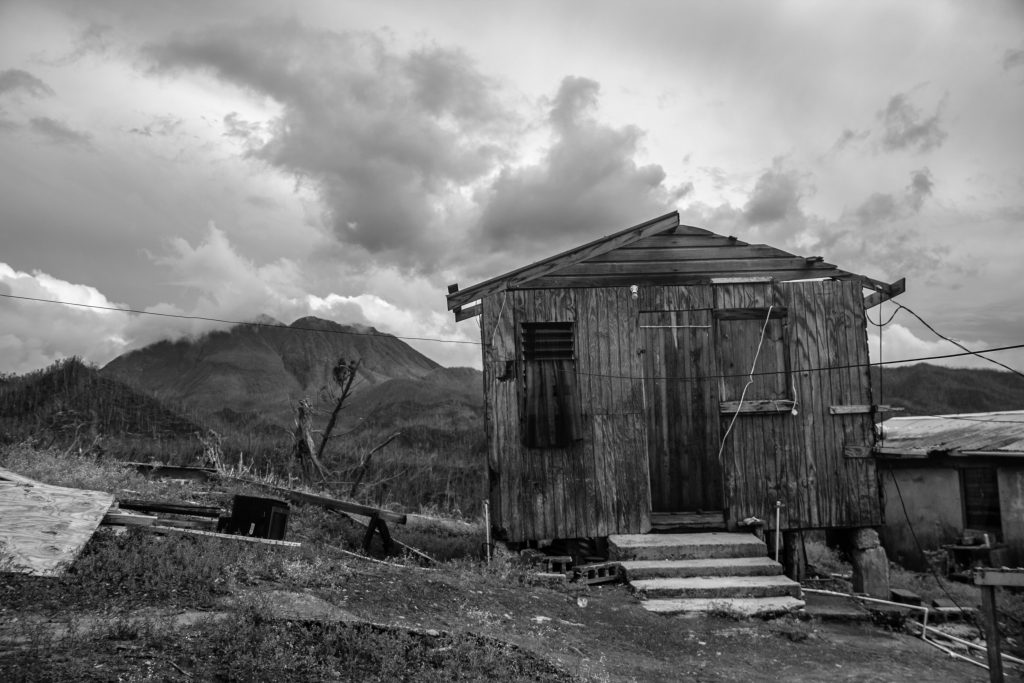 Can you recount one of the most significant moments from the journey thus far?
The most significant moment was showcasing Uncivilized right here in Dominica at Emerald Movies. Maria was a tragic and challenging time for all of us, and to be able to show this film at home and be able to re-experience and recontextualise
Did Genesis indeed get it wrong?
Very good question. Maybe, maybe not. Without self-awareness (aka eating from the tree of knowledge) even fear and death are just natural facts of life. With awareness comes a different sort of fear, an existential terror, what Huxley refers to in his novel "Island" (which I highly recommend everyone read), "The Essential Horror". I still think we were destined to go on this journey… maybe one day we'll return home, to ourselves, to wholeness, and balance.
Are there any plans of a sequel in the works?
No sequel. I have one other documentary idea I'm toying around with as well as a fiction screenplay.
What can we look forward to from you this year?  What projects are you working on?
I just finished editing a music video for the track Coronavirus by Abiyah (@Abiyahmusic) which you should definitely check out. Fantastic music, and video featuring some amazing original artworks by my good friend Kaz (@hgfieldsart). I've got some corporate videos coming soon too, as well as another music video project I'm very excited about that got put on hold since last year. But that's top secret for now. If you want to see it as soon as it drops, you can follow me at @mike_please
I'm also working on a Maria-themed photo exhibition that I'm submitting to a regional arts collective/online exhibition.