"Jael and her team provided the audience with an exclusive, thought provoking and tear jerking scope on some of the most powerful women in Dominica."
Over the weekend I had the opportunity to attend the second 767 Girls Rock Show. Needless to say, I was excited about it since the first announcement and I had an experience great enough to blog about.
The event took place at the Fort Young Hotel, which is one of the best on island. The décor was inviting and super chic, with white and grey furniture, beautifully accented with gold and tan pieces. The room felt quite posh and walking in I felt quite expensive.
---
Arriving at 767 Girls Rock
Once I found a seat I was ready for all the show had to offer. From the corner of my eye I could see where the special guests were seated and I could not wait to hear what they had to say. I mean, I expected to be inspired, but I didn't expect their stories to have such a profound impact. Honestly, if I were a crier, I would have been balling my eyes out – sometimes from laughter and other times because the emotions in the room were so dense I would have caved in.
If I've learnt one thing from this experience it would be that these ladies are truly phenomenal women and looking at them on social media or within their professional capacity alone does not fully capture who they are.
So 'big up' to Jael and her team for providing us with such a personal insight on these women I've come to admire.
---
Kellyn George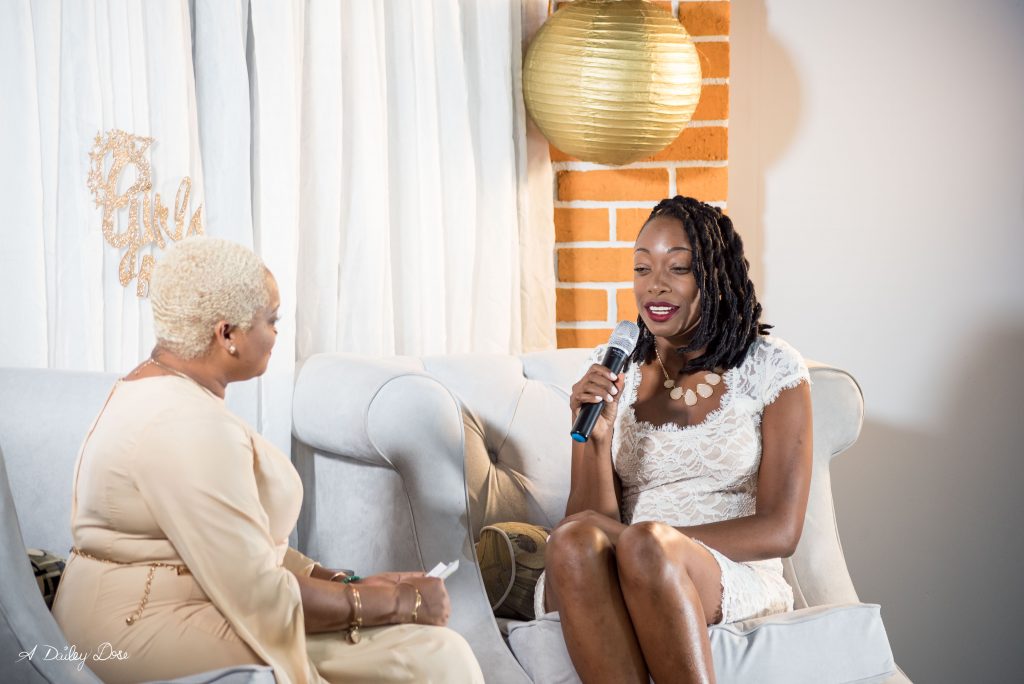 Kellyn has some serious gut. Despite her sickle cell anemia, which has led to blood transfusions, interrupted blood flow to her bones and intense pain, she forges on to promote community development.  Even on her bad days she's all about helping other people. Her foundation has done wonders and has even managed to purchase a blood fridge for the Princess Margaret Hospital.
Although she gets some serious work done, she isn't one of those workaholics who turn themselves into road kill for the greater good. She doesn't push herself over the limit; she understands her body and what it can do, and when she's tired she goes to bed.  One of the things that stuck with me from her presentation was her saying, "You have all the resources available to you to make a positive difference in your life. Don't let anybody tell you that you can't do it."
---
Leandra Lander
Before the show, I already knew that Leandra was creative and good with words. But I also had the idea that she was also a tough lady you shouldn't mess with. During the show, however, I saw a different side to her that just melted my heart. Yes, she is a go-getter who loves her glitter. But she's also very passionate about what she does. 
She's one of the good teachers who takes money out of her own account to make her students happy. I saw how loving, kind and thoughtful she is. And that left me speechless…till she did her special presentation. At this point 10 persons from the audience had to put together a poem and that left the room erupting in laughter.
She ended her special presentation with a poem to her future daughter. That child, I can already tell, will have one of the best moms out there.
---
Dr. Schuyler Esprit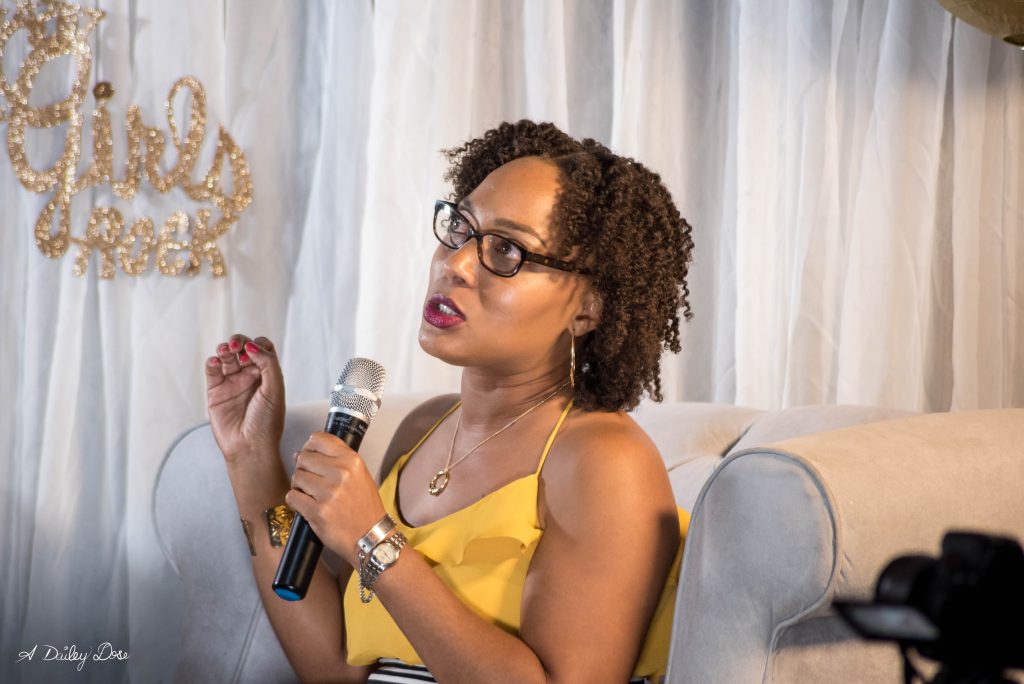 Dr. Esprit was blunt, honest and absolutely hilarious and apparently that's her half the time. She was described as an open book but still not someone you can get close to and a recovering perfectionist, workaholic and catholic. She has had her PhD before she turned 29 but that doesn't prevent her from chilling with the rest of us. She balances her accomplishments with her duty to community and makes time to have fun.
What resonated with me the most was how relatable her story was. She let us know that she felt like an outcast living in Dominica because she wasn't interested in what everybody else was into. And so she felt like she needed to get away and she did. But now she's back and creating an environment for young people to let them know that you don't have to run away or leave Dominica to be great and to be successful.
Her love for words took us on an interesting journey into pop culture. And we learnt that apart from history and literature Schuyler is totally interested in pop stuff. It was hilarious and  was probably my favourite presentation for the night.
---
Pearl Fontaine Butler
Listening to Pearl speak is like being wrapped in a hug. Pearl was described as a beautiful soul and you can feel it. She was so open sharing her story that I wanted to cry when she cried but… as I said I'm not a crier so it didn't happen. But the sacrifices that she has made to take care of her family, especially her grandparents, inspired me to want to do more for my own parents and grandparents. So long story short, she said she was overseas, living life and everything, and her grandfather asked her to come back to spend some time with him; before long, she had packed up everything and moved back home purely because family means everything to her.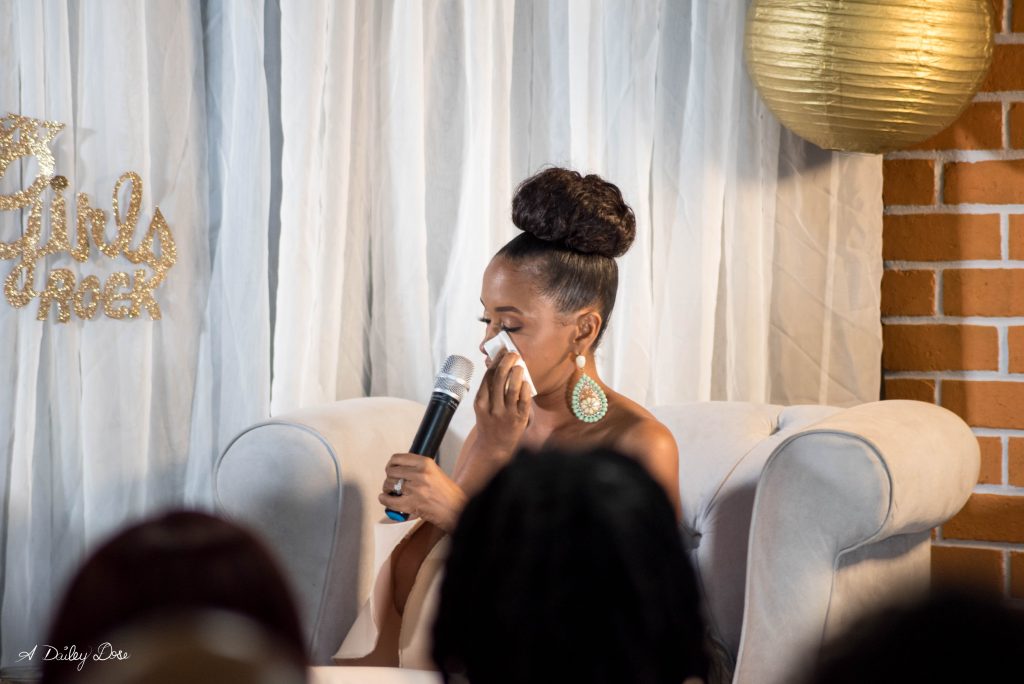 Clearly Pearl has a great deal of Jesus juice everyday because her love of God is obvious and infectious. She says it's what grounds her, and although she didn't get too preachy, Pearl taught the audience, based on scripture, that to be successful  the key is to create, affirm and support.
---
Joanne Commodore
Joanne was bold and unapologetic the entire time. She seems unassuming but she is a force to be reckoned with. I totally understand why she's a lawyer and why she does what she does. Not only did she challenge the very fabric of some of what I've been taught my whole life. She did not care whether or not people were offended and that gave me so much life. When she speaks she commands the room but she doesn't make you feel like she's above you she just sounds like she was speaking on behalf of women.
Though she cannot see children in her future, she sees a husband – * insert emotional outburst here* and get this. Her aim is to become prime minister of the first female president. She does everything with grace, dignity and hard work and she let us know that she doesn't have time to get invested in other people's affairs.  Very badass if I can say so myself.
---
I can't wait to see what these women are going to do next, and I'm grateful that I had the opportunity to learn a thing or two from their stories. I know this was long but thank you so much for reading! 767 Girls ROCK!